SPECIAL SURFACE ALUMINIUM HONEYCOMB PANEL
STONE AHP: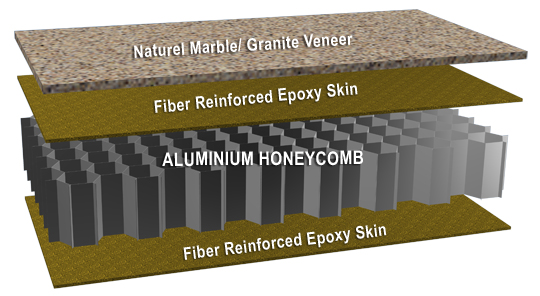 Stone Honeycomb Panels are composite wall panels made up of a thin natural stone veneer reinforced with an aluminum honeycomb (Alternatively we can use Polypropylene or Fiberglass Honeycomb also) backing. Combining the timeless beauty of authentic natural stone with aluminum honeycomb technology, Maxbond Stone AHP is the global choice for commercial stone wall panel and cladding applications. The stone veneer can be almost any stone including granite, marble, limestone, travertine and onyx. The natural stone is mostly in the thickness of 3mm - 5mm.
Combining the aerospace technology of aluminum honeycomb with the timeless beauty of natural granite, marble and limestone, it can be used for a wide variety of applications including those typically considered weight or cost-prohibitive. They have been used extensively in exterior, interior, renovation, elevator, and specialty applications.
Major Application Areas:

Architectural : Exterior or Interior Cladding, Flooring, Cleanroom Tiles etc.
Furniture manufacturing : Kitchen Tabletops, Dinning tables etc.
Transport : Bathroom fittings for Luxuary yachts, Royal Aircrafts etc.
Benefits:

Light weight
High impact strength
Good quality of sound insulation and heat insulation
Easy for installation
Impervious to water penetration