ALUMINIUM HONEYCOMB PANEL (AHP)
OVERVIEW: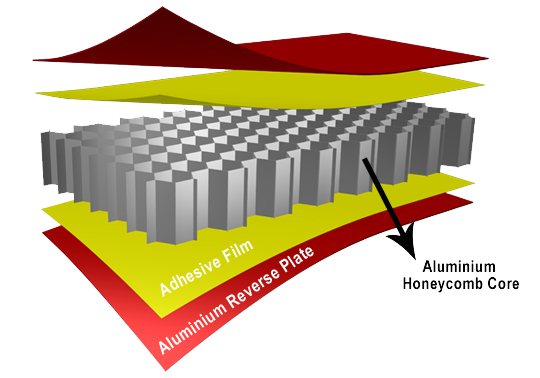 Aluminium Honeycomb Panel (AHP) is a sort of sandwich panel consisting of two aluminium plates as face panels and hexagonal aluminium honeycomb cell as core materials, bonded together by aviation-purpose glue or macromolecule lamination film. The surface of the Maxbond aluminum honeycomb panels are made of aluminum alloy plates roller coated with PVDF or Polyester (PE) according to the purpose.
Maxbond Honeycomb Panels are well known for their strength and lightness. The aluminium honeycomb core, the nature's best architectural design makes the panel strong and meanwhile it remains as a light weight panel. Available in different thicknesses for core and skin, Maxbond honeycomb core material is available with aluminium and polypropylene materials. Maxbond AHP is approved for different applications in Ship Building and the products are verified to be according to the International Marine Organization (IMO) standards.
The continuous production process allows the production of large size panels up to lengths of 9m, with superior flatness. Clean, easily fabricated with perfect details, a great variety of applications is possible with the use of ordinary tools. Its particular characteristics make Maxbond AHP the ideal choice not only for outdoor applications such as facade cladding, roofing, balconies, shelters, etc., but also for interior design like artistic ceilings, or for applications in transport and industry like ships and airplanes.
Major Applications

Architectural
Aviation industry
Furniture manufacturing and Interior decoration
Advertising & Exhibitions
Ceiling and Partition
Ship Hull building
Maxbond AHP advantages

Large Variety of Colors and Low Weight
Excellent strength
High Resistance to Moisture
High Resistance to Corrosion
Excellent Thermal Conductivity
Noncombustible
Superior Flatness